01-Innovation
Initial Start and Innovation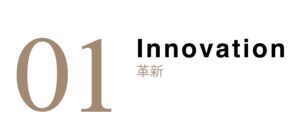 In the 1980s, the hair color came into fashion.  In addition to the culture of coloring one's hair, the  concerns of the damage caused by hair color started to rise.  At that time, there were treatment that would only care the outer layer of the hair, and there weren't hair care menus that would really treat the hair damage.  In resolving this issue, TOKIO INKARAMI Treatment was produced in 2011 and sold, in approaching and repairing the main ingredient of the hair, keratin protein.  It became a popular menu in Japan, and "treatment with TOKIO improves the qualities of cut, color, and perm".  TOKIO INKARAMI became the number one treatment in all of Japan.
02-TOKIO IE INKARAMI
The Experience of TOKIO INKARAMI at Home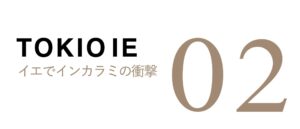 In making the patented technology INKARAMI happen, TOKIO INKARAMI – which can approach the keratin protein (the main ingredient of the hair) also can be experienced in the comfort in your own home with TOKIO IE.   You'd only have to use shampoo and treatment like you would do regularly, and changed the way of home care treatment.   TOKIO IE is not only the home care system that elongates the result of hair treatment from salons, but could experience the same kind of result on your own.
03-Global
One Step into Global Market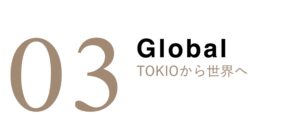 Expanding the pride of Japanese brand and beauty/salon skills, from Tokyo to the world.  In letting people know that it is "made in Japan", the product is named TOKIO.  Starting with Paris France in 2015, we've been expanding globally.  The professionals and the media from the global markets have raved the product as "the world's number one system treatment from Japan".  
04-Update
Long Awaited Renewal of TOKIO INKARAMI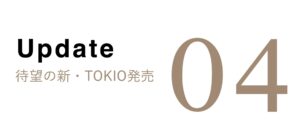 In the year 2020, in targeting the TOKIO IE users, e-commerce site IFING BEAUTY was started.  And in 2022, TOKIO revamped, and started TOKIO INKARAMI (新).  It is the menu with even more better results of the patented INKARAMI technology.
Established Dr. Jr. department
Releasing tokio INKARAMI TREATMENT brand
Releasing to-kyo-to brand
Releasing tokio INKARAMI HOME
Releasing FUREN Part Liner
■ Expanding into France and Korean Markets
from tokio to TOKIO
brand renewal to TOKIO INKARAMI
Releasing TOKIO de SINKA EX Series(Quasi-drugs)
Releasing TOKIO IE HOME CARE
■ Expanding into Singapore, Hong Kong, and Taiwan
Brand renewal from TOKIO de SINKA to SINKA TOKIO INKARAMI
Moving to Ginza Six in Ginza, Tokyo
Releasing TOKIO IE HEAD SPA series
Releasing TOKIO IE PREMIUM Series
Rebranding TOKIO IE HOME CARE
■ Expanding into Russia, Ukraine, and Malaysia
Releasing TOKIO INKARAMI Pre Shampoo
Releasing TOKIO HYPER INKARAMI
Releasing TOKIO DESIGN INKARAMI
Established IFING Paris EU
Releasing TOKIO INKARAMI LIMITED
Started IFING BEAUTY Online
Releasing TOKIO IE HYPER INKARAMI
Renewal of IFING BEAUTY Online
Renewal of New TOKIO INKARAMI
TOKIO IE Perfect Edition (Full Renewal)
ー TOKIO IE STANDARD
ー TOKIO IE LIMITED
ー TOKIO IE HYPER